1. Warm Up Your Neck and Shoulders
Sit on the edge of a chair. Plant your feet firmly on the floor, hip distance apart. The spine is straight but not strained.
Inhale slowly  shrugging the shoulders. Exhale slowly and release. Repeat 3-4 times.
Inhale. Slowly exhale, lowering your chin down to your chest. Inhale and turn your head to the right keeping your chin close to the chest.
Exhale and slowly turn your head to the left, relaxing the back of your neck.
Repeat  4-6 times in each direction.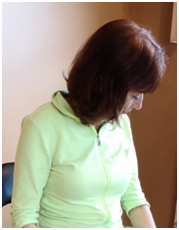 2. Revitalize All Organs with Belly Breathing
Put your hands on your belly. Loosely interlace your fingers.
Breath in and gently inflate your belly like you are inflating  a balloon, gliding  your fingers apart. Fingers are very soft.
Exhale gently bringing your belly button in, feel your abdomen getting smaller. (2-5 min)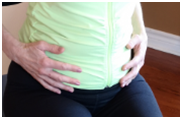 3. Improve Posture with Chest Opener Breath
Bring your palms together in front of your face, elbows are bent, shoulders are relaxed.
Inhale and move your arms apart, stretching the chest.
Bring your shoulder blades down and to the centre, squeezing them towards the midline of your body – engage your rhomboids.
Exhale and slowly bring your palms together in front of your face. Relax for a women
 Repeat 6-8 times.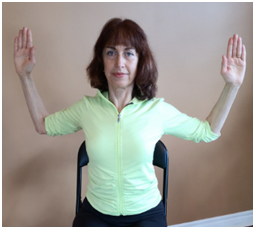 4. Relieve Tight Shoulders with Shoulder Circles
Bend your elbows and put your hands on the shoulders.
Begin to draw circles clockwise with your    elbows starting small and getting progressively larger and then back down to small once again.
Do it 4-6 times. Repeat in the opposite direction.